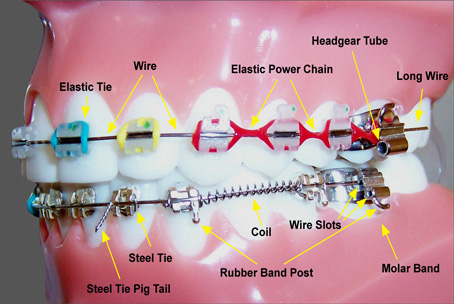 Northeast Ohio Emergency Orthodontic Treatment
Are you a patient in Northeast Ohio needing Emergency Orthodontic Treatment? Dr. George Souris handles all matters of braces emergencies
Parts of the Braces
Bracket - Small square attachment that holds the wire in place and is cemented directly to the tooth's surface
Archwire - The main wire that acts as a track to guide the teeth into the desired position. It is changed periodically throughout treatment as the teeth move closer to their final position.
Band - A thin ring of metal with a bracket attached to it that is fitted around the tooth (usually a back one) and cemented in place.
Elastic Tie - A tiny rubber band (sometimes colored) that fits around the bracket to help hold the wire in place.
Coil Spring - A compressed spring that fits over the archwire and in between the brackets to open space between teeth.
Hook - A welded arm on a bracket or band that is used to attach elastics (rubber bands).
Elastic(Rubber Band) - A small rubber band that is hooked between different points on the braces to provide pressure and help move the teeth.
Orthodontic Terms
Spacer or Separator - A small rubber ring that is placed between your teeth to create space for the bands to be placed.
Banding -The process of fitting the bands (metal rings) that go around your back teeth.
Bonding -The process of attaching brackets directly to your teeth using special orthodontic cement.
Rebonding - The process of re-cementing a bracket which has been broken off your tooth.
Recementing - The process of re-attaching a band which has come loose from your back tooth .
Debonding - The process of removing cemented brackets and bands from your teeth when treatment is complete.
Expanders - The cemented devices attached to the upper and/or lower teeth that are turned daily to widen the jaws.
Power Chain - A connected chain of tiny rubber bands that goes from bracket to bracket to help close spaces between teeth.
---
---